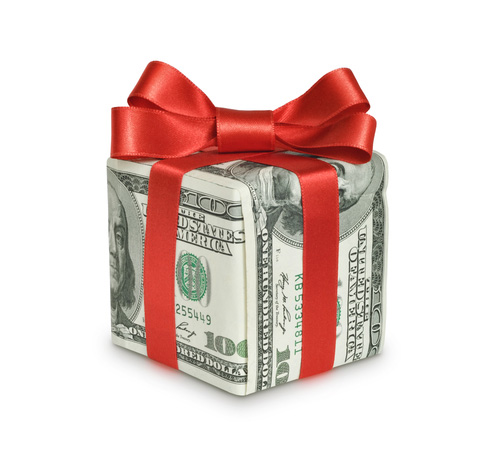 Are you saving money for a down payment on a house? Then you may be wondering how to get through the holiday season with some money left in your pocket. It's so easy to overspend this time of year, especially when you want to show your loved ones how much you care about them. Some of us are especially guilty of overspending with our children! I hope you find the following ideas helpful to assist you in spending your well-earned money wisely this holiday season!
Establish guidelines
Does it feel like your shopping list gets longer and longer every year? Are you exchanging gifts with other adults that are about the same value? Maybe it's time to establish some guidelines. While it's always fun to give gifts to children, it could be time to eliminate gift-giving among adults. If you feel like others may feel the same way, you can suggest not exchanging gifts this year. You may be surprised by how grateful others are to save the money, effort, and stress. If you still would like to exchange gifts this holiday season, consider making a donation to a favorite charity. That will allow you to help a great cause and still feel the joy of giving!
Set a budget for each person
In addition to whittling down your shopping list, you can also set a budget per person to avoid overspending. Limit a specific dollar amount for each person, and stick to it. Yes, there will always be people who spend more money than you do during the holidays. But don't feel like you have to keep up with Joneses. Remember – each dollar you save can go towards the money you're accumulating for a down payment.
Avoid using credit
While it's easy to pull out that credit card during the holidays if you feel financially overextended, don't. Not only will you be paying the amount of the gift, you'll also end up owing extra for interest. If you're able to pay off the balance in full on your next statement, then using your card isn't a big deal. If you're not able to pay it all off immediately, keep the credit cards at home and use your debit card or cash to pay for holiday gifts. Using your debit/bank card or cash will of course simply allow you to only spend what you earn.
Comparison shop
If you have a specific gift in mind for someone, then take the time to comparison shop. This is especially true for electronics and other gadgets that are sold from multiple retailers. There's no reason to pay more for the exact same gift you can get cheaper elsewhere. Also check to see if the store has a price-match policy, which may save you the time of heading to another store.
Keep track of your expenses
If you really want to save money, then it's essential that you keep track of your expenses. Make a list of all the gifts you plan to buy and the budget for each. Then fill in how much you actually spent on the purchase. Seeing the numbers in black and white will help you stay on track.
DIY your gifts
Finally, why not make some of your gifts this holiday season? We give gifts because we want to show people we care. It doesn't take piles of money to show someone how much you love them. There are so many great ideas online for homemade gifts, including cookies, home décor, and body products. If you have a little extra time and some imagination, you can save a bundle!
Compliments of Virtual Results